Turn any corporate event into an extraordinary moving event with Singapore GOURMETbus.
Singapore GOURMETbus is a highly versatile "venue" of choice for different corporate charter needs. Besides offering all the facilities of a fine dining restaurant, the GOURMETbus is also equipped with 14 projectors (each table is a projected screen), wireless speaker mic, sound system and wifi – everything you need for a conference room. Whether it is corporate planning sessions, product launches, mini-conferences or networking event, the GOURMETbus is an ideal choice. Not forgetting that this is on wheels and is highly mobile, it makes it easy to hold a meeting closer to where you need to be for sight inspection/survey or showcasing of a certain precinct.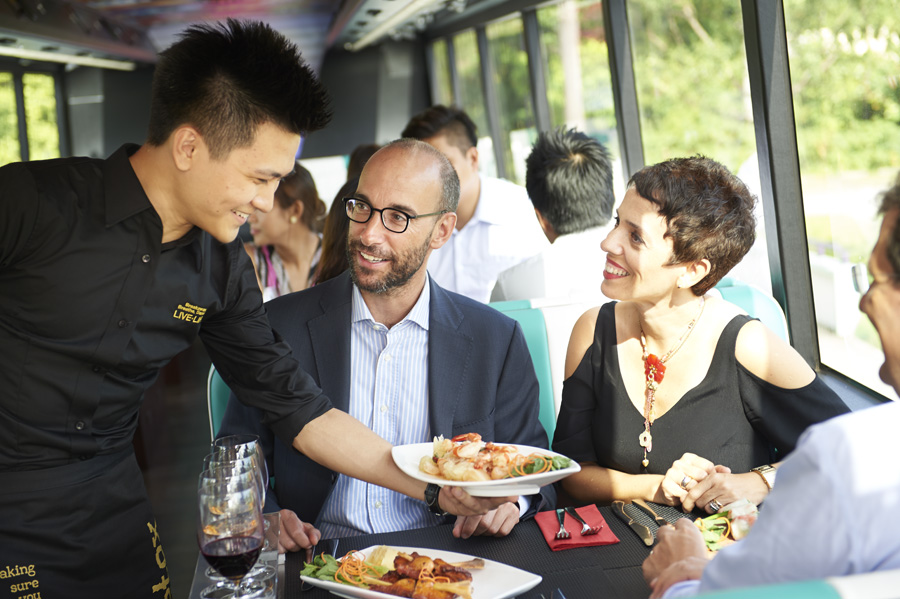 VVIP Transfer & Hosting
✻
Food transcends cultural boundaries and binds people. That's one important reason Singapore Gourmet Bus has become the most impactful way to receive, host and even transfer a group of important delegates - while we serve up mega-yummy bites on the move.
This is also an irresistably appealing venue to hold informal receptions! Your logo and/or brand message can be anchored in the backdrop while we set up facilities to make the mobile bar fully operational. WOW your guests with an impressive ice-breaking line-up on board before embarking on the bus tours.
Product Launches
✻
The Singapore GOURMETbus provides the ideal platform where you can plan an intimate setting for product or service launches, and even take things up a notch by including a sampling or (wine) tasting component. Technical facilities on board are available to give you what it takes to successfully host strategic partners, key resellers or even members of the press.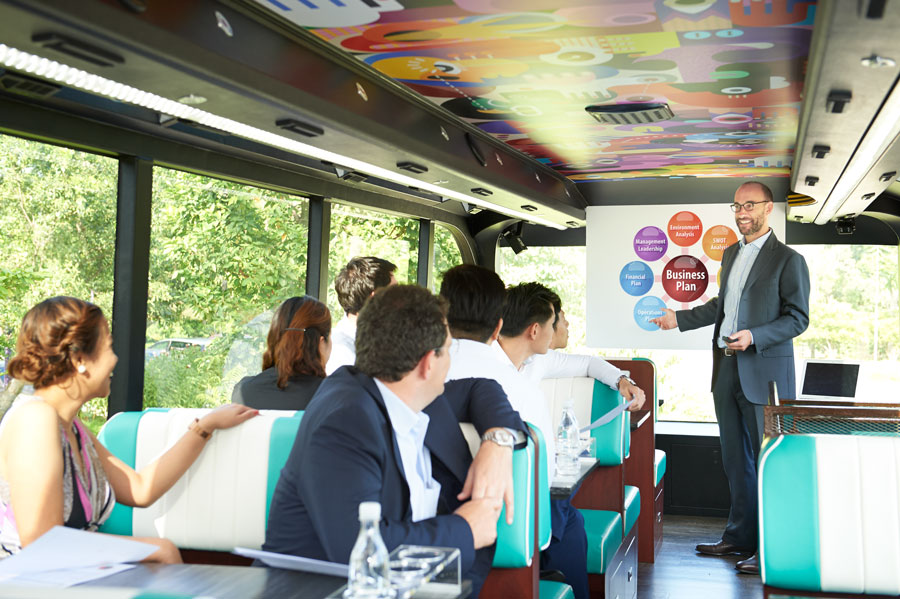 MICE
✻
Singapore is one of the world's leading financial and business hubs. Its strategic location, dynamic culture and excellent connectivity make us an ideal MICE destination. Boasting high mobility that allows you to be all over the city, the luxurious Singapore Gourmet Bus is where productivity meets fun. It offers a chic yet effective incentive platform capable of supporting events with an exclusive turnout. So come on board and stage a completely memorable experience for your corporate/incentive programmes!
Networking Sessions & Seminars
✻
Wonder if there's an alternative location for project kick-off meetings, product familiarisation or workshops that seals in the corporate element yet raises receptivity? Engineered to handle all kinds of activity requests, the Singapore GOURMETbus is your answer to heightened audience participation.
Events & Incentives
✻
The Singapore GOURMETbus is a versatile platform – melding together work and play. It is the most exciting tour coach for serious fun on the road, equipped with a bar and easy sitting arrangements for interactive activities, such as card games, karaoke and even some city sightseeing! This is where business and productivity never fail to meet fun and (glorious) food.
Roadshows and Promotions
✻
Decked out in corporate livery and exhibiting your brand image, the Singapore GOURMETbus is ready to move from one venue to another in style. Think hosting guests and dishing out of drinks, light bites and goody bags - this is the most exciting way to promote your product and services on the get-go.
Speak to Us
If you would like to find out more about any of our Corporate Charters, email us as , or call us on +65 6338-6877.